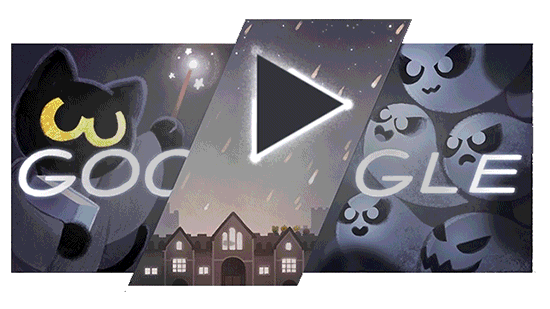 Halloween's Google doodle replaces its logo with an interactive Magic Cat Academy game filled with ghosts on the homepage.
Players are instructed to draw the symbols that appear above the ghosts heads on the screen to scare away ghosts creeping towards Momo, the cat-magician casting your spells quickly and precisely at the center of the game.
That's not all, after you completed sorcery, you can also share your casting spell expertise along with your score.
"This year's Halloween Doodle follows freshman feline Momo on her mission to rescue her school of magic. Help her cast out mischievous spirits by swiping in the shape of the symbols above the ghosts' heads. And you'd better pounce fast—the ghost that stole the master spellbook is getting away!," Google stated.
Google says the cat in the game is a real-life black cat named Momo who belongs to a doodler.
According to the Google Doodle Blog, the development of the game involved four different teams – art, engineering, production, and an "extra help" group that produced the music. Players navigate through five different levels of Magic Cat Academy – all set in a school environment – racing against time to swipe away ghosts headed toward Momo.
Google says it started with numerous ideas of elaborate symbols to draw, but in the end, decided a "short game against the clock" was a better option.
Google explaining the game's concept said, "originally, the game involved a magic cat making a soup that raise the dead. But, later they moved to the idea of a wizard school, which opened the door to more robust world filled with interesting characters and paw-some themes." "The game includes five levels set in a school environment: the library, cafeteria, classroom, gym, and the building's rooftop," added Google.

Magic Cat Academy Game Deom

Early mock-up of gameplay

Cat Hat Spell in a previous concept
Past Google Halloween Doodles: