A new update announced by the Facebook will bring three additional new features to the 'Stories' feature on its social networking platform, the company will soon launch a new type of post i.e. audio posts, an archive of stories and an ability to save photos and videos in the cloud.
The new feature work much like Facebook-owned photo-sharing platform Instagram include a new save Storage option, Voice Posts and even a Stories Archive.
Here is a look at what's new coming on Facebook's this time:
Cloud Storage: Save Photos and Videos
Facebook users will now have an option to be able to save the photos and videos they capture through the built-in camera in the Facebook app in their Facebook account rather than on the device's storage. This will save them space on their device as well as the save media will be accessible whenever they want.
Here is a screen shot of new Save Photos feature:
According to Facebook people around the world have revealed that they've to delete a photo from their device just to save a new one. The new Save feature will create a private tab in the Stories creation interface as well as a Saved tab in profile's Photos section. Unlike Photo Sync feature, here you can save imagery one at a time.
Stories Archive
In addition to Save Stories, Facebook will also allow users to keep an archive of stories after 24-hour expiration date is passed through the new 'Stories Archive' which let users save their shared Stories for the future. To archive Stories, users must have auto-archive enabled.
As Facebook says, unlike normal Stories that disappear within 24 hours from an account, the new save feature will allow archiving Stories that contain 'special moments worth saving.'
Additionally, users will also be able to reshare Stories from the archive either as a post or in the Stories format.
Image below showing Stories Archive feature:
Voice Posts
The new update also includes 'Voice posts' which allow users to create audio-only messages to share when they don't need to share a photo or video. This option will be available through Facebook app's built-in camera and will help people who can't write in the language they want to share the message.
A voice post on Stories is limited to a 20 second duration While, there is currently no limit for a voice post shared to News Feed.
Here is a screen shot of Voice Posts: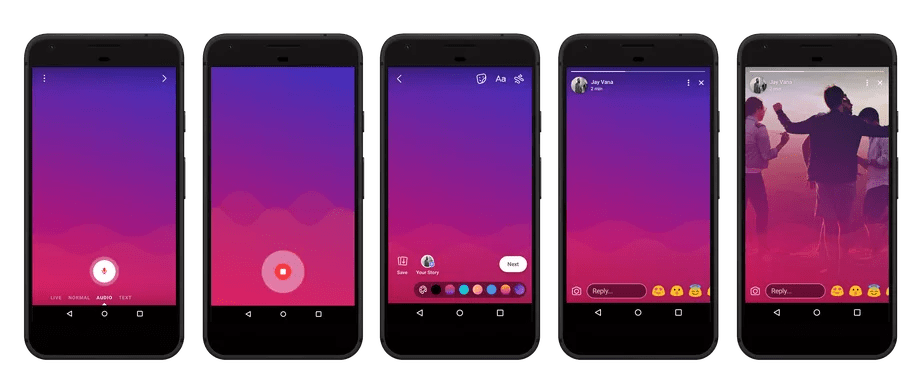 Facebook claims, Voice post feature will be rolling out on FBLite as it is 'optimized for low data/network conditions'.
These new features will be first rolling out exclusively in India, before making their way into the rest of world soon after.
In other news, Facebook also has made reporting easier in Messenger through the new tools on mobile to report conversations that violate Community Standards. Previously, people were only able to report activity in Messenger via the Facebook reporting tools or Messenger web.
These new reporting tool are accessible directly from any Messenger conversation on iOS or Android using these simple steps:
Tapping the name of the person or group with whom you're having a conversation.
Scroll to Something's Wrong
Select from several categories such as harassment, hate speech, or pretending to be someone else.
After completing report, a confirmation message will notify you that it was successfully submitted for review.
In addition, people can also "ignore" or "block" a person they are reporting.
In the image below you can see new reporting flow:
Check out more about the new reporting tools in Messenger in the video below: