Google in a latest update to its AdWords mobile app added a new functionality that enable advertisers to now add, edit or remove keywords from their campaigns on the go.
With the AdWords app, "you can select high-quality, relevant keywords for your ad campaigns even when you're away from your computer," says Google. Specifically, this update let advertisers add keywords, edit keywords, remove keywords, get keyword ideas, and forecast theri keyword performance on the go.
To add a keyword, from the Overview screen, scroll down and tap Keywords, then simply click the round blue "plus" button that appears in the bottom right corner of the various Keyword views in the app.
To edit or delete existing keywords, just tap the keyword you want to remove or edit, then change the keyword or the match type, or tap the Trash icon in the upper right corner of the screen to delete. You'll be asked to confirm before the keyword is removed.
See the screenshot below of new AdWords app keyword editor: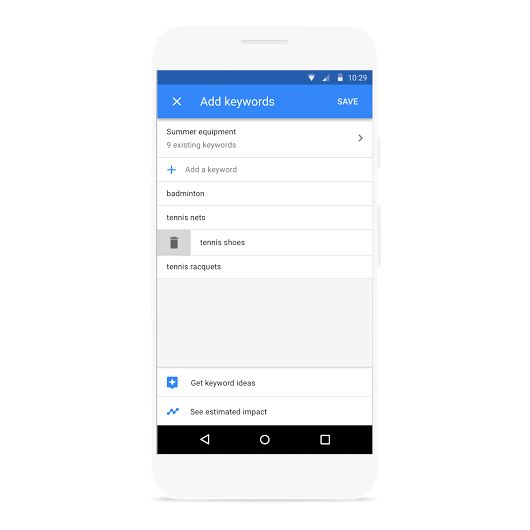 And, to get keyword ideas, you need to tap the blue plus button, select a campaign, then an ad group for your new keyword, next tap Get keyword ideas and enter a website or keyword related to your product or service. Finally, select any keywords from the list that you want to adopt as your keywords, and tap Save, then tap Save again.
That's where advertisers can also pause or enable a keyword and change manually set bids.
For full instructions, see the help center page.
The AdWords app can be downloaded from the iOs and Google Play app stores.
In other ad news, Google's AdMob has just launched a new feature that let developers use ad content filtering to improve users' ad experience, as they can now specify the content rating fro Google ads served in their app. "With new max_ad_content_rating signal, you can now choose the content rating of Google demand that you want to deliver on a per-request basis," writes the team.
To this end, the following four new content rating choices are available:
G: Content suitable for general audiences
PG: Content suitable for most audiences with parental guidance
T: Content suitable for teen and older audiences
MA: Content suitable only for mature audiences
To start sending the new max_ad_content_rating signal in the Google Mobile Ads SDK, just follow these Android and iOS guides.
And, to learn more about the new signal and the content rating choices, see this AdMob help center page.