Search Console, was launched in Nov of 2005 with initial four reports, today features over two dozen of reports along with tools designed to help improve a site's performance on Google Search, such as AMP, structured data, and live testing tools. Tuesday, Google gave a "sneak peek" at the two new beta features coming to Search Console.
The new beta reports include, an Index Coverage report and AMP fixing flow report, are currently rolling out to a "small set of users" in the "next few weeks," Google said.
The Index Coverage report will show you count of indexed pages, and information about "why some pages could not be indexed." Also, the report shows example pages and tips to fix indexing issues. Addiitionally, it also offers a "simple sitemap submission flow, along with the capability to filter all Index Coverage data to any of the submitted sitemaps."
Here's a peek of our new Index Coverage report: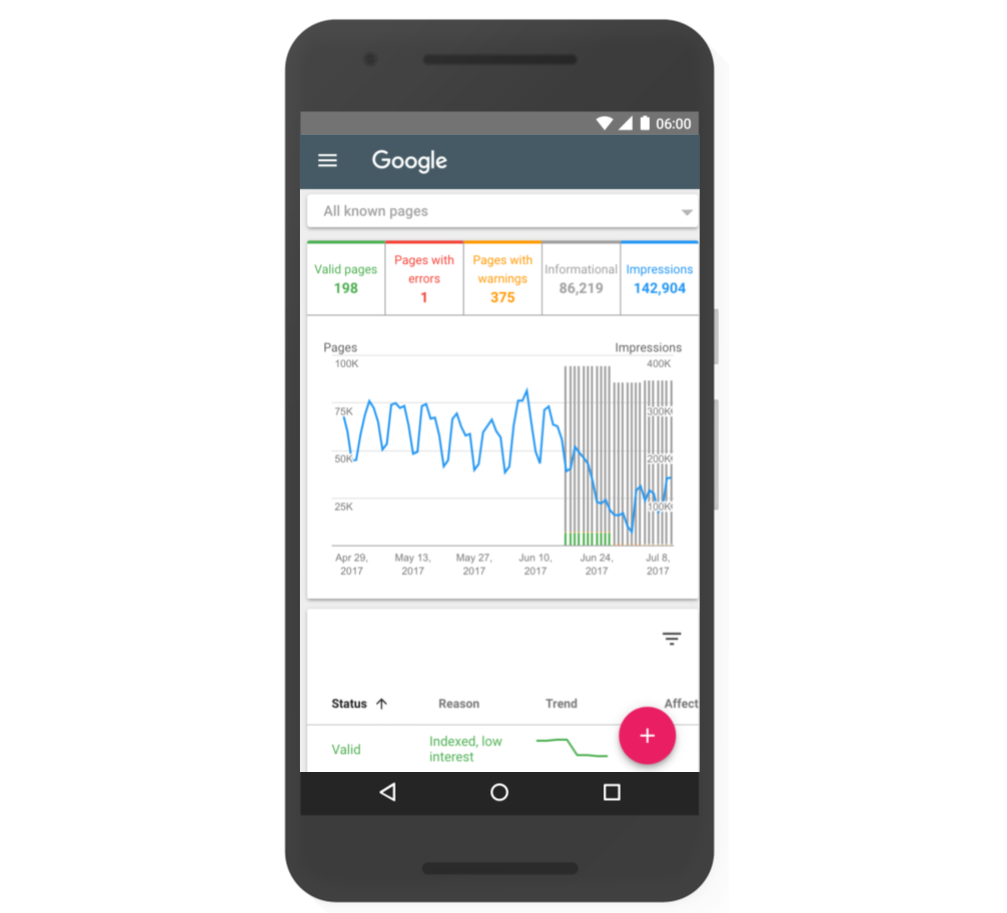 The AMP fixing flow, reports current AMP related issues impacting sites, that are all grouped by the "underlying error." Using the report, you can drill down into an issue to get more details, which will include "sample affected pages." After the issue(s) are fixed, you can click a button to "verify your fix," and have Google recrawl the pages affected by that issue. Google says, they will then notify users of the "recrawl progress, and will also update the report as the fixes are validated."
Google also noted, the new extensively redesigned and improved Search Console interface will provide you with:
more actionable insights - that will group all "identified issues" suspected to be a common "root-cause" to help you find and fix your code. We organize these issues into tasks that have a state (similar to bug tracking systems) so you can easily see whether the issue is still open, whether Google has detected your fix, and track the progress of re-processing the affected pages.
better support for organizational workflow - this functionality allows you to pick-up an action item and share it with other people in your group, like developers who will get references to the code in question.
faster feedback loops between you and Google - Google now offer "on-the-spot" testing of fixes, and automatically speeds up recrawling, along with testing tools, that now include "code snippets and a search preview" - "so users can quickly see where the issues are, confirms fixes, and can see how the pages will look on Search."