Google is adding more improvements to a feature in Chrome on Android, that introduced the ability to download the whole webpage for viewing it later completely offline. The feature added to mobile browser last year, and since then more than 45 million web pages are downloaded every week, says Google.
The new feature announced on makes it even easier to download pages—as you can now long press on any link and select "Download link." This feature is available on the new tab page, when you long press on article suggestion.
In addition, using the new "Download Page Later" button in Chrome's offline mode, will automatically download the page when you get back online—once you tap it.
Now, when you open a new tab, all your downloaded articles, since they are tagged with a new 'offline badge' will show up, along with a list of all recent downloads right on the page for easy access.
To acces these features, update to the latest version of Chrome on your Android device, and tap the download icon on any page to get started.
In the picture below, you can see (left to right): New download link option, download page later button, offline badge: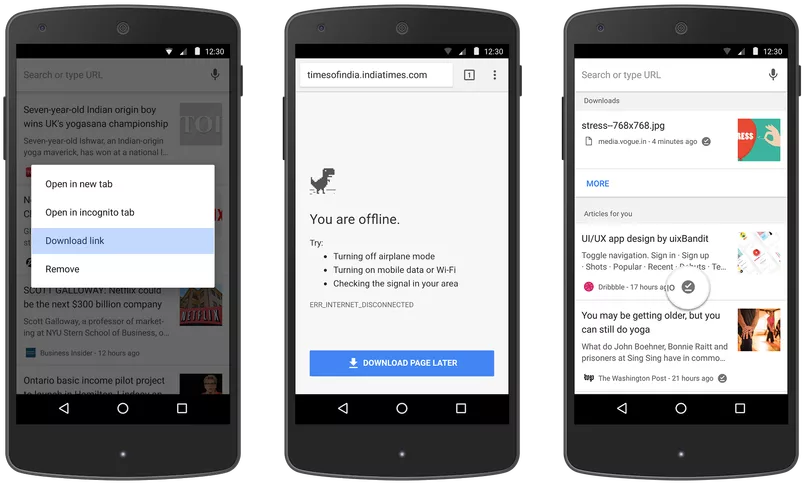 Also, Chrome is getting improvements to extension security with "out-of-process iframes" in version 56, as yet another layer of defense is added to the browser that "fully isolate Chrome extension privileges from web pages."
Google Safe Browsing warns users away from websites known to be dangerous. Chrome's sandbox and multi-process architecture provide additional layers of defense by helping block malware installation and reducing the severity of vulnerabilities.
Chrome has always kept extensions and web pages in different processes where possible, but sometimes extensions host web content in iframes. With this update, "Chrome now uses out-of-process iframes to ensure that extension-hosted web iframes are never put into their parent extension process," explains the Chrome team. "Even if an extension's web iframe finds a Chrome bug and takes over its own web process, that process won't have access to extension APIs."